Since launching Sandstone in 2004, our founders Sharon Watkins and Brent Pickerl have focused on building wealth one client at a time while also contributing to the community.
Almost 20 years later, while our firm's business has grown substantially through prudent asset management, we haven't forgotten our roots. Our commitment to the Calgary community remains as strong as ever.
We're proud of supporting numerous organizations and initiatives over the years, including:
We're also proud of our CONNECTS speaker's series where we bring in global thought leaders to share their perspectives on a range of topical issues to inform and inspire people to make a positive difference in the lives of others. Every year we invite numerous students to join the SANDSTONE CONNECTS conversation from the University of Calgary Haskayne School of Business and Mount Royal University.
Since 2006, our firm has been designated as an Imagine Canada Caring Company, and since 2016, we have been certified as a B-Corporation, meeting the exacting standards concerning community investment, transparency, accountability and social and environmental performance annually – two distinctions we take great pride in achieving.
Sandstone supports numerous charitable and philanthropic initiatives, leveraging the time and talents of our employees. Each of our team members are allocated 40 hours of paid volunteer time annually to support organizations through their skills and expertise and often devote additional time to assist non-profit organizations in various leadership roles. Organizations that have been a part of this initiative include the Calgary Philharmonic Orchestra, InterGen, the Global Business Forum, and DOWNSTAGE Theatre.
Proud legacy continues
To build on this legacy of giving and making a social impact, we are excited to be the lead champion of the Calgary Surge Assist initiative. By teaming up with Kids Up Front Calgary, we'll be sending over 300 children to Surge home games during its 10-game home season schedule in the Canadian Elite Basketball League.
The Surge's season opener is at home on May 27 against the Edmonton Stingers and home games conclude on July 26 against the Stingers.
We encourage you to rally behind this great cause and join us in not only supporting our newest sports franchise but more importantly, a group of young fans who deserve a great time out. There are three ticket options:
• Single game tickets for $38
• A five game pack for $190, or
• A season ticket package for $380
All personal and corporate donations are eligible for a charitable tax receipt and will help support an estimated 150 agencies that Kids Up Front Calgary partners with in the community.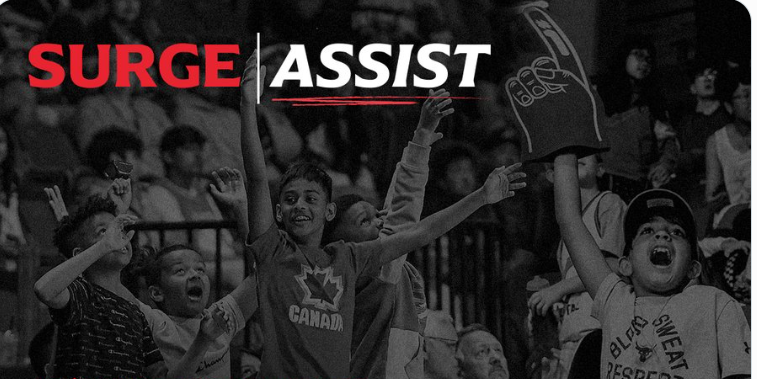 Bottom Line
Creating a vibrant city requires a team effort and we are proud of our role in supporting numerous organizations, entrepreneurs and initiatives that make Calgary a special place to live, work and play.
For more on our initiatives, check out our commitment to community.