The US Dollar: The World's Reserve Currency
Over the past several years, including in our latest Outlook 2022 booklet, we have spoken at length about the global reserve currency status of the US dollar. Recent global developments warrant another update.
Given the importance of the US dollar, the United States holds substantial economic and geopolitical leverage via the SWIFT system. As a reminder, the SWIFT system (Society for World Interbank Financial Telecommunication) was created in 1973 as an electronic payment messaging system. Designed to be a "neutral global cooperative," SWIFT is the world-dominant payment network overseen primarily by the United States. Currently, it links more than 11,000 financial institutions in over 200 countries and territories.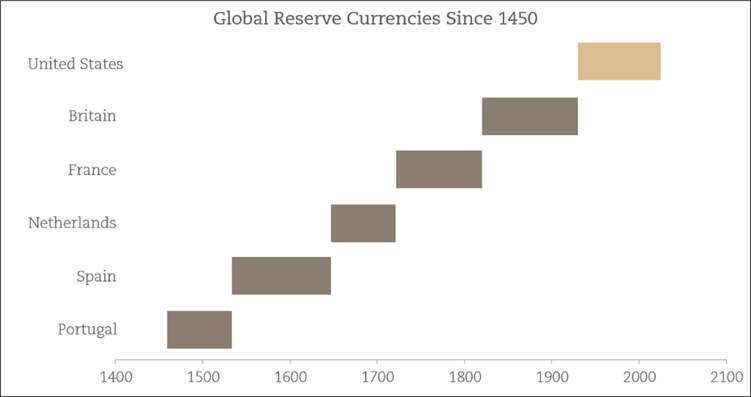 Rising conflicts in Ukraine have led to the imposition of financial sanctions to their fullest extent against the Russian central bank. This is not the first time a central bank has faced sanctions – at some point, Iran, Venezuela, and Cuba have all suffered the same fate. However, this is the first time a G20 country has been targeted.
Despite the advice from the Federal Reserve Board and major wall street banks, these sanctions prevent financial institutions from engaging in any transactions with the Russian central bank. The rationale: create a speculative attack against the Russian Ruble, resulting in higher inflation, a collapse in living standards and, hopefully, an uprising against the Putin government by the citizens of Russia seeking regime change.
Unlike the countries before it, Russia is self-sufficient – and although it will cause pain, they will not run out of energy or food. In fact, because of European dependence on Russian energy and agriculture, Russian exports have been unaffected by the sanctions. Export revenues will continue to flow to Russia while the EU, particularly Germany, will suffer higher costs of living.
So what?
The US has just put on display the lengths it will go to use the global financial system to put political pressure on foreign governments. Countries like China and India, current and future economic growth engines, are watching and re-evaluating their respective economic strategies. Friend or foe, the current situation has convinced many countries to step back, question the status quo, and consider exploring new financial structures for conducting business.
bottom line
The perceived weaponization of the US dollar creates the need for multiple alternative networks. Will SWIFT fall from being the global financial system and become one of many financial systems?
Alternative payment networks (gold, digital, etc.) already exist, and new, parallel financial and currency systems are being created to rival the traditional US dollar system. These recent actions may accelerate the demise of the US dollar's reign as the global reserve currency and the many benefits it provides them.