what is an executor of a will?
We recently published an article on Will Basics which includes naming an executor for your will. In this article, we breakdown the responsibilities executors have as they play a very crucial role. They're in charge of carrying out your wishes as expressed in your last will and testament. Essentially, an executor is the gatekeeper between your estate and your beneficiaries.
who can be an executor?
An executor can be a friend or family member, a trust company, or even a lawyer or accountant. When selecting your executor, you will want to make sure that it is someone you trust, and someone who will be able to handle the responsibilities that come with the role.
what are the duties of an executor of a will?
After you pass away, your executor will carry out your funeral wishes and will need to contact any companies you have accounts with to transfer or close those accounts. The executor will need to determine all the assets you owned at the time of death as well as your debts. Your executor will also arrange to pay your debts and file/pay your taxes, while your remaining assets will be distributed per the instructions in your will.
Executors must make sure a will is executed just as the testator would have wanted and are tasked with many duties after a person dies. The executor role is important, and it can feel overwhelming, especially during an emotional time.
executor checklist
Have you been named the executor of a will and are unsure what your duties include? Below is an executor checklist. This checklist is not comprehensive and acts as a guideline. Each situation is unique so be sure to seek legal advice as well to ensure you fulfill your executive duties.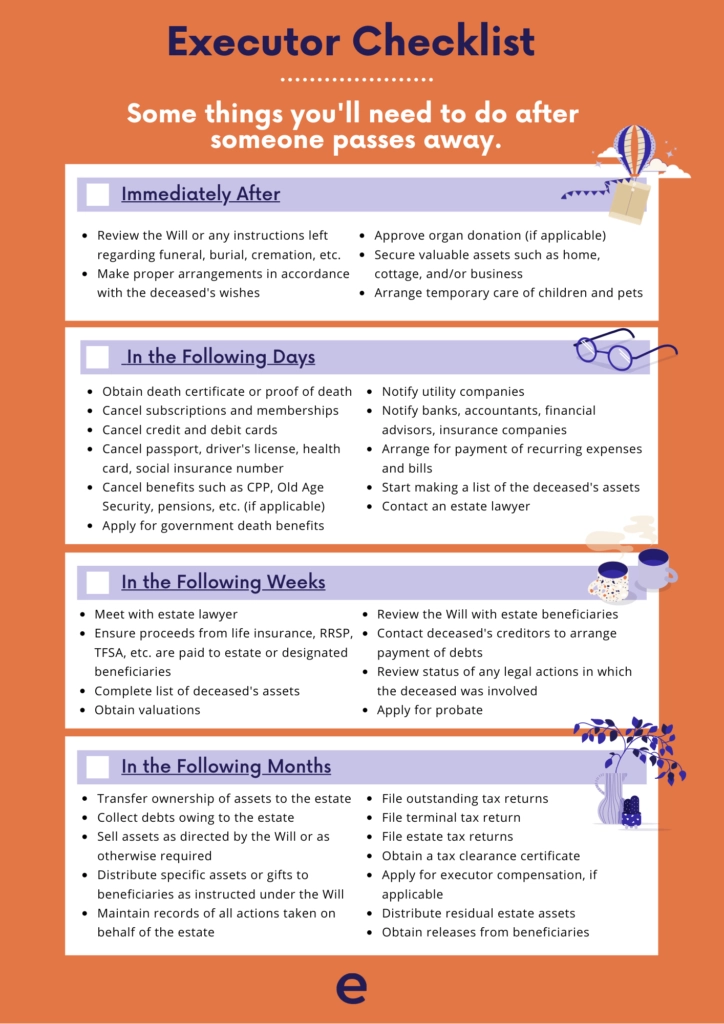 Source: Epilogue Wills. What is an executor of a Will.


what happens if i don't have an executor?
If you're going through the effort of creating a will, it would be surprising to not name an executor. If you don't name one in your will (or you die without a will), someone needs to apply to court to be given the authority to deal with your estate.
If you want to make the administration of your estate easier for your loved ones, naming an executor is a huge step.

bottom line
If you've been appointed the executor of someone's will, it's completely normal to ask for help. At SANDSTONE we encourage anyone who has been appointed as the executor of a will to familiarize themselves with the checklist above as a guideline, while also seeking legal advice.
If there are any questions related to creating a will or carrying out your duties as an executor, the team at SANDSTONE is more than happy to have a conversation with you. We can assist you as you go through the thought process of writing your will and are happy to introduce you to a lawyer. Furthermore, we can provide an independent analysis once your will is complete.