SANDSTONE is proud to be a partner of this yearly event in Banff.
Global Business Forum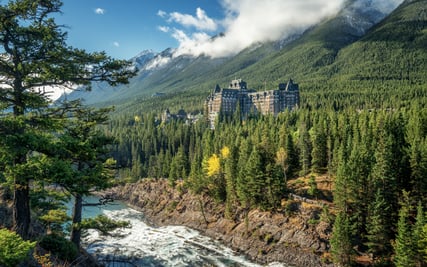 The Global Business Forum (GBF) is an independent, not-for-profit corporation promoting thought and action leadership. The Forum provides an opportunity for prominent invited international business executives, academics, and government leaders to discuss and debate crucial global economic issues.
SANDSTONE's CEO Sharon Watkins sits on the GBF's steering committee, a position she has held for several years. Finding, recommending, and funding keynote speakers that will inspire active discussion and debate.
2021 Global Business Forum: Navigating Uncertainty and Charting Prosperity
This year's Forum helped guests navigate uncertainty and chart prosperity by examining how nations disengage and re-engage, the state of the global economy, trends, innovation, technology, trade, human rights, and how we meet the dual challenges of the need for energy and sustainability.
Forum Discussion Topics:
• Global Recovery. Humanity's unmasking – thriving in liberty or hobbled by waves of COVID-19
• Energy: The New Map. Profound challenges span the new climate, geopolitical and energy map
• United Nations. Restoring credibility and effectiveness to global institutions
• World Order. Is the U.S. really back?
• Secrets of Technology. Inventors disrupt then unblock the future solutions
• Values of a Productive Corporate Culture. Restructuring healthy workplaces
• China After "America First"
• Inspirational Leadership and Global Goals
Past Keynote Speakers Sponsored by SANDSTONE
2021 David Roberts, Founder and CEO, GEDI Training
2020 Trevor Noren, Executive Director, 13D Global Research & Strategy
2019 Kishore Mahbubani, Distinguished Fellow, Asia Research Institute, National University of Singapore
2019 Haiyan Wang, Managing Partner, China India Institute
2018 Paul Goncharoff, Senior Advisor, Albion Overseas "De-dollarization"
2017 Alastair Crooke, Founder and Director, The Conflicts Forum
2016 Dr. Ian Goldin, Professor of Globalization and Development, Oxford Martin School
2015 Karen Elazari, Cyber Security Strategist, Amitec Information Industries
Discussion on Global Issues
The GBF has always been about bringing together those with vision, creativity, and ingenuity and is always an intriguing opportunity for broad discussions with industry experts on global issues.
Encouraging active discussion and debate about world issues is one of the key things that sets SANDSTONE apart.