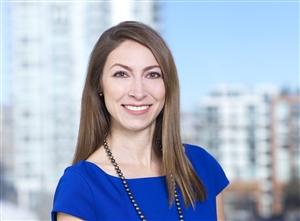 Niki Dunne - Portfolio Manager
Since joining Sandstone in 2013, Niki has become a valuable member of the company, working directly with the Chief Investment Strategist and clients, and supporting the management team. In addition to her role as Portfolio Manager, Niki assists in charting Sandstone's global investment strategy, and contributes to business and client development, research, and communications.
Niki developed an interest in financial affairs from listening to her grandfather discuss investments. She is passionate about helping clients to meet their unique financial goals by finding opportunities globally where companies and industries are using innovative thinking to make the world a better place.
In addition to being a Portfolio Manager, Niki is a Chartered Investment Manager. She holds a Bachelor of Business Management degree from the University of Lethbridge, with a double major in finance and marketing.
Prior to joining Sandstone, Niki worked for a Calgary-based private family office and international oil and gas royalty corporation. She was responsible for investment analysis and portfolio management, and assisted with investor relations and acquisition modelling.
Niki is married with two young children. When they are able to do so, the family loves to spend time with relatives and friends back on the ranches of southern Alberta where Niki and her husband were raised. She loves outdoor activities, plays softball, and is an occasional half-marathon runner who has traveled to over 28 countries.
Niki is an active community volunteer. She has participated in a variety of initiatives over the years, from assisting her neighbourhood association to secure needed improvements to taking on sewing projects for Carewest facilities in Calgary. She was one of the original 'activators' in SheEO, a network of women supporting women-led business ventures which has become a global movement since its inception. In 2019, Niki was appointed to the Board of Calgary Philharmonic Orchestra, one of Alberta's leading performing arts enterprises, where she sits on the Finance Committee providing oversight and guidance for the ongoing affairs of the organization.